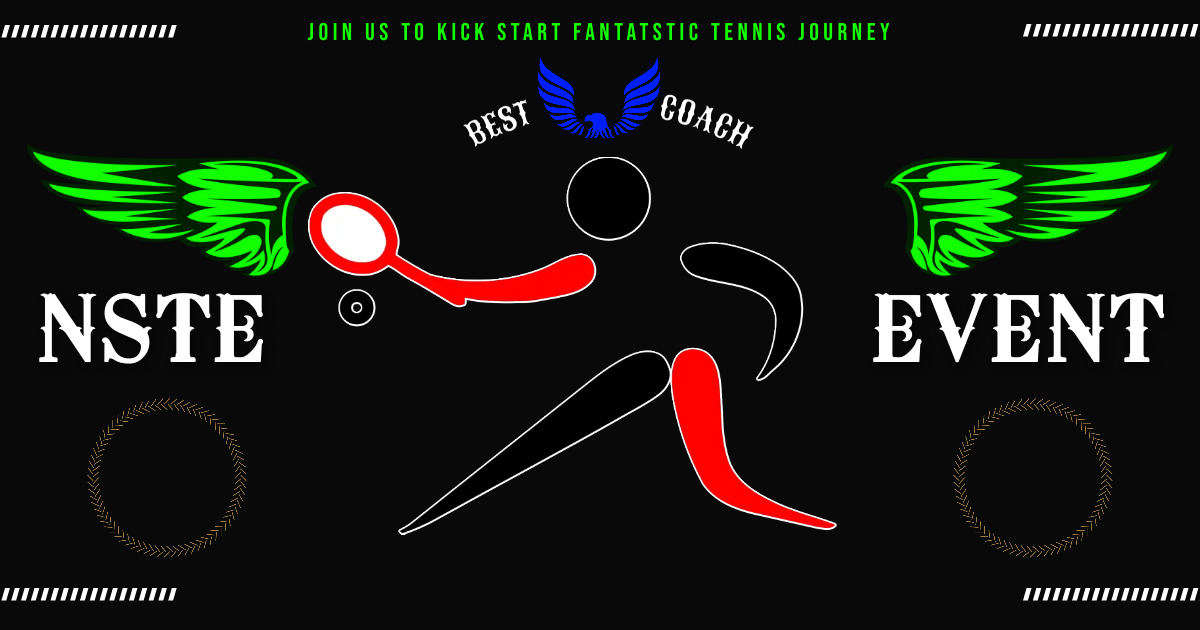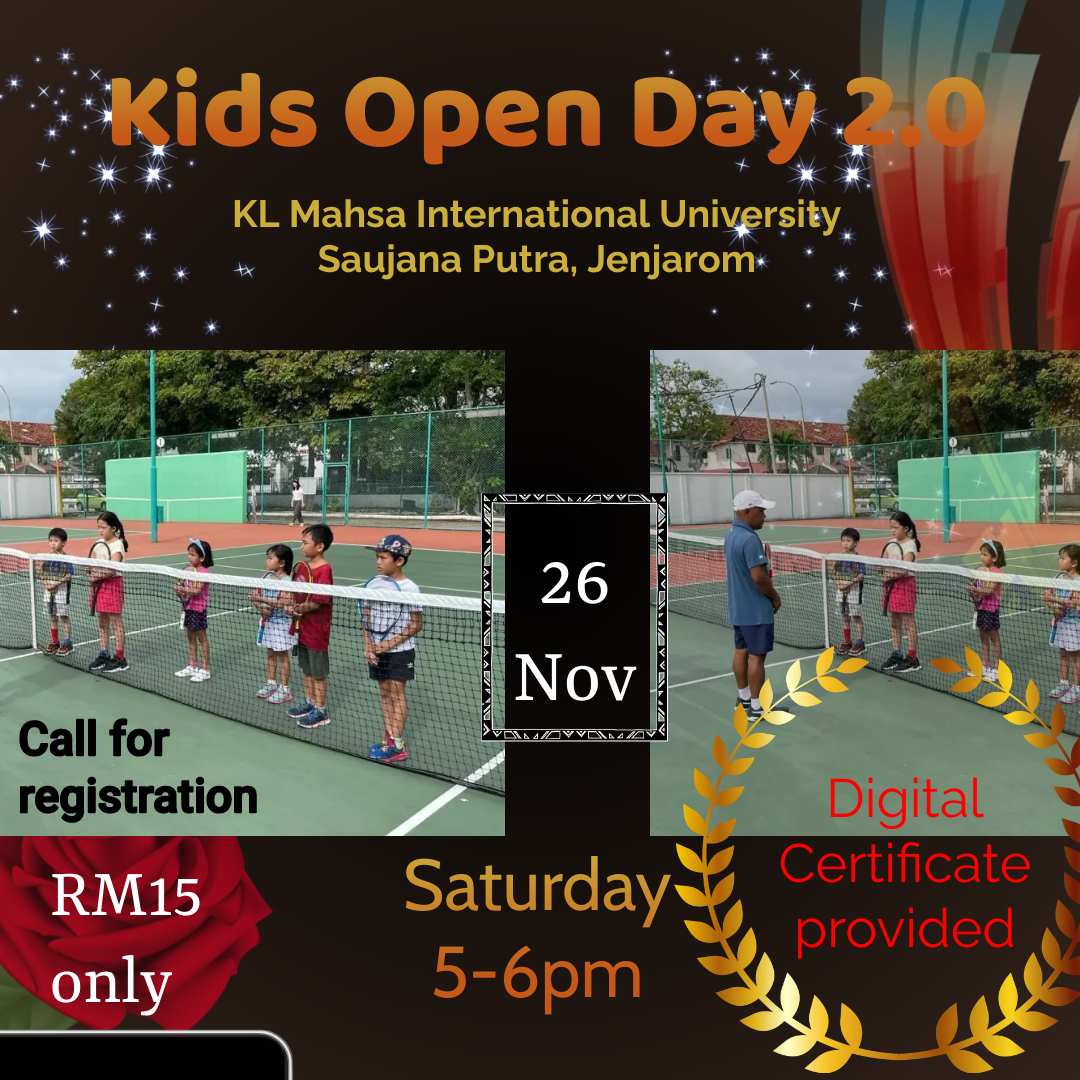 𝐂𝐚𝐥𝐥 𝐨𝐮𝐭 𝐟𝐨𝐫 𝐫𝐞𝐠𝐢𝐬𝐭𝐫𝐚𝐭𝐢𝐨𝐧
*𝗞𝗶𝗱𝘀 𝗢𝗽𝗲𝗻 𝗗𝗮𝘆 𝟮.𝟬 *
Participants will get a 𝐃𝐢𝐠𝐢𝐭𝐚𝐥 𝐂𝐞𝐫𝐭𝐢𝐟𝐢𝐜𝐚𝐭𝐞😊 for attending our event
This Event will bring interest among the kids to play tennis, especially to those who are not from tennis backgrounds:
This is could be a good chance to get to know what tennis is all about in the first place and get a chance to play with the racket.
Rackets will provide during Open Day only.
Click the below link to register your name
𝐓𝐄𝐍𝐍𝐈𝐒 𝐎𝐏𝐄𝐍 𝐃𝐀𝐘 𝐊𝐢𝐝𝐬 KL
𝙂𝙧𝙖𝙗 𝙮𝙤𝙪𝙧 𝙚𝙖𝙧𝙡𝙮 𝙗𝙞𝙧𝙙 𝙙𝙞𝙨𝙘𝙤𝙪𝙣𝙩𝙨 𝙖𝙥𝙥𝙡𝙞𝙘𝙖𝙗𝙡𝙚 𝙛𝙤𝙧 𝙩𝙝𝙚 𝙛𝙞𝙧𝙨𝙩 20
𝐘𝐨𝐮𝐫 𝐤𝐢𝐝𝐬 𝐰𝐢𝐥𝐥 𝐥𝐞𝐚𝐫𝐧 𝐭𝐡𝐞:
𝐈𝐧𝐭𝐫𝐨𝐝𝐮𝐜𝐭𝐢𝐨𝐧 𝐭𝐨 𝐓𝐞𝐧𝐧𝐢𝐬 (𝐅𝐮𝐧𝐝𝐚𝐦𝐞𝐧𝐭𝐚𝐥𝐬, 𝐂𝐨𝐨𝐫𝐝𝐢𝐧𝐚𝐭𝐢𝐨𝐧, 𝐓𝐞𝐜𝐡𝐧𝐢𝐪𝐮𝐞𝐬)
*Introduction tennis as a competitive sport, teaches children how to remain focused and achieve their goals.
*It can boost your kid's confidence and build their self-esteem and even make them feel more energetic after sweating on a tennis court.
*Pressing goal, scoring one point tennis court can help your child to a build strong, flexible body and a winning mentality that will benefit them later in life.
*Continuous movement of the children will burn calories to help them to lose weight and keep fit.
𝙅𝙤𝙞𝙣 𝙪𝙨 𝙞𝙣 𝙩𝙝𝙞𝙨 𝙗𝙚𝙖𝙪𝙩𝙞𝙛𝙪𝙡 𝙚𝙫𝙚𝙣𝙩!
𝐃𝐚𝐭𝐞: 𝐒𝐮𝐧𝐝𝐚𝐲 26 November 𝟐𝟎𝟐𝟐
𝐓𝐢𝐦𝐞: 𝟓-𝟔 𝐏𝐌
𝐀𝐠𝐞: 5 – 𝟏1 𝐲𝐫𝐬 𝐨𝐥𝐝 𝐤𝐢𝐝𝐬
𝐋𝐨𝐜𝐚𝐭𝐢𝐨𝐧: 𝐌𝐚𝐡𝐬𝐚 𝐈𝐧𝐭𝐞𝐫𝐧𝐚𝐭𝐢𝐨𝐧 𝐔𝐧𝐢𝐯𝐞𝐫𝐬𝐭𝐢𝐲, 𝐒𝐚𝐮𝐣𝐚𝐧𝐚 𝐏𝐮𝐭𝐫𝐚
WhatsApp us to find out more details at 0162596453